The Swiss watch brand Longines is the official timekeeper for the FIS World Cup Alpine ski competitions and the FIS World Ski Championships.
Longines's commitment to timekeeping in Alipine skiing dates back to 1933 in Chamonix.
No less than seven technicians arrive three days before the first training session or race. Two days are needed to set up the material and one day is booked for several tests before the first races start. The number of intermediate times recorded varies from two to five, depending on the type of skiing involved. In addition, speed-measuring devices are also set up during the downhill and Super-G events. The entire timing system, which is officially approved and fitted with a secondary back-up facility, provides measurements that are accurate to 1/100th of a second. All of the equipment is designed to operate across a temperature range of -20°C to +50°C.
Lindsey Vonn wins super-G for 64th World Cup victory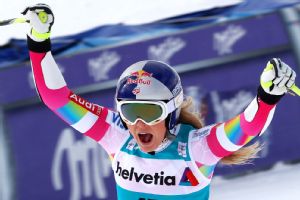 As a support to young athletes, the brand awards the "Longines Rising Ski Stars" prize at the end of the FIS World Cup.
This year the focus will be on the female skiers for this unique competition. Each will be hoping to be crowned champion for 2015 and to take home a Longines watch as well as a trophy.
Rising Ski Stars prize, awarded to the best female skier under the age of 21 and the best male skier under the age of 23 who compete for the FIS Alpine Skiing World Cup. At the end of the 2014/2015 season, the two winners will each receive a Longines watch, a trophy and a cheque for CHF 20,000.
The launch of the new Alpine skiing season was also an opportunity for Longines to unveil the name of its new Ambassador of Elegance, American alpine skier Mikaela Shiffrin, two-time winner of the « Longines Rising Ski Stars » prize. The talented athlete was also World Champion in 2013 and won two crystal globes in slalom.
Mikaela Shiffrin is the Longines Rising Ski Stars 2013/2014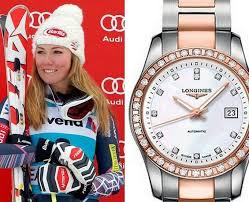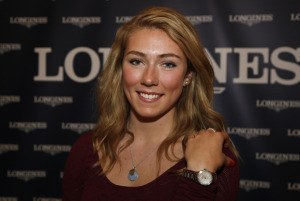 Longines has been based at Saint-Imier in Switzerland since 1832. Its watchmaking expertise reflects a strong devotion to tradition, elegance and performance. Longines has generations of experience as official timekeeper of world championships and as partner of international sports federation. The brand's long association with competition skiing started in Chamonix in 1933. Known for the elegance of its timepieces, Longines is a member of the Swatch Group Ltd, the World's leading manufacturer of horological products. With the winged hourglass as its emblem, the brand has outlets in over 130 countries.