From George Washington to Herbert Hoover, every US president was known to have carried a pocketwatch. FDR, however, would be the first president to popularize the wristwatch as a valid presidential accessory.
President Roosevelt was known for owning both a skeletonized minute repeater pocketwatch as well as a Tiffany & Co. Movado triple calendar watch.
Minute Repeater
While in Havana, President Roosevelt was given an A. Frankfeld skeletonized minute repeater pocketwatch from Dr. Boldan, the former minister of education in Cuba. The meeting took place at a Lions Club in Havana on Jan 30, 1942. The lid of the watch includes the inscription
"Presented to/President Roosevelt/by/Dr. Boldan/Former Minister of Education/at Dinner of/Lions Club of Havana on/January 30, 1942."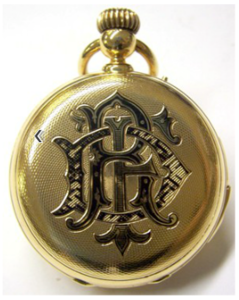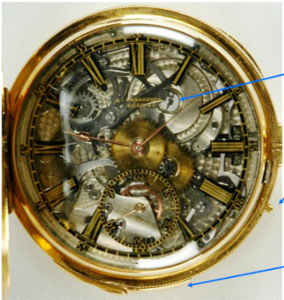 Tiffany CT 60
FDR's most famous wristwatch was a sTiffany ­signed Movado he received for his birthday in 1945. According to the story, the president's son­in­law received the watch as a Christmas gift the year prior and re­gifted it to his father­in­law the next year. The watch was supposedly worn by the president during the Malta and Yalta Conferences in 1945, as well as throughout the latter months of his life. The watch now [supposedly] resides in the Tiffany archives. In recent years, Tiffany has begun selling a new CT60 Calendar Watch model based on FDR's original.