Rolex Day Date "President"
This new 6511 the "Day Date" had a window at 12 spelling out the day at 12 and the date was shown at 3. Due to the complexity of the watch, with its automatic movement, additional day and date discs and a screw down back it was a very large and thick watch which gave it presence on the wrist. Introduced as a niche model it soon gained the popularity it deserves and after the introduction of the concealed clasp ( concealed clasp was offer as $75 option in 1969) it was known as the "President".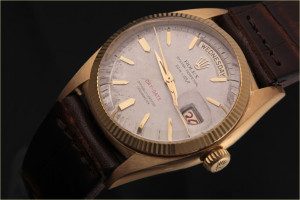 The Day Date became Rolex's flagship. The first model (6511) lasted just over a year before it was replaced by the externally identical 6611. This model featured the new caliber 1055 movement with its free sprung Micro-Stella balance and was the first to be labeled " Superlative Chronometer Officially Certified" on the dial. This new accuracy standard guaranteed the watch to remain within + 3.0 seconds per day. In 1959 caliber 1055 was replaced with caliber 1555 in model 1803 (18,000bph) and later in year 1965 – model 1803 received caliber 1556 (19,800bph).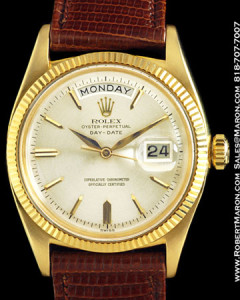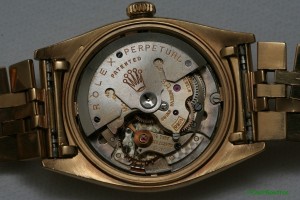 The Day Date earned the nickname the "President" when Rolex reportedly gave one to the then President of the United States Dwight Eisenhower. Some sources say that President Eisenhower was actually given a Datejust (not Day-Date) with the presidential style bracelet. But it is a fact that several other US presidents are known to wear Day-Date (Roosevelt, Kennedy, Johnson, Nixon, Ford, Reagan).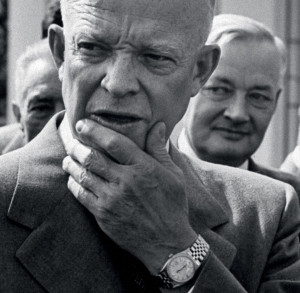 Rolex advertising showing the "President" on the "Red Phone"  hotline.   Rolex was very successful in marketing this new design to Presidents and many world leaders.   A true status symbol of power and ellegance.