In1954, Rolex formally launched Submariner model 6204 at the Basel Spring Fair. The company claimed its new timepiece was water resistant and could withstand depths of 200 meters (or 660 feet): something no other watch company had been able to accomplish. This same model (as well as the 6205), which was a bit smaller than the first "experimental" 6200 model, was officially launched for sale to the general public in 1955.
In 1954 Jacque Cousteau made a documentary film about the Mediterranean Sea titled The Silent World, which ended up winning an Academy Award. Of course, Rolex made certain the famous oceanographer was prominently wearing a Rolex Submariner in all of the film's shots.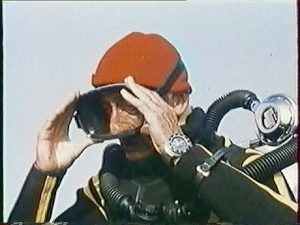 It wouldn't be until the 1960s, however, that the Submariner would have mass appeal. This is when the Submariner showed up on the wrist of Sean Connery in several James Bond 007 films, including some famous underwater scenes. (In fact, the Submariner has shown up in no less than nine Bond films.)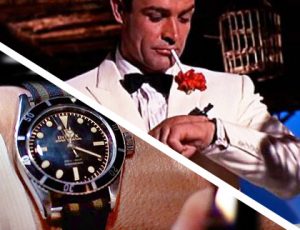 Submariner Innovations
Over the decades, Rolex has made only minor changes to its classic Submariner watches such as thinning out the crown guard and adding even more innovations such as a helium escape valve, a 31-jewel movement, extra luminescent hour markers (called "superluminova"), synthetic sapphire glass, a date feature (some with "Cyclops" magnifying glass for easier reading) and an even greater depth rating (300 meters of 1,000 feet).
Starting in the 1970s, Rolex also changed the Submariner into a more colorful timepiece. The first Submariners were all made in  stainless  steel with black faces, but the newer Submariner watches became available in yellow gold (or two tone) and even bright blue faces. In 2004, Rolex launched its green face  to commemorate the 50th anniversary of the Submariner. Rolex uses a proprietary 904L stainless steel on its latest Submariner models. Through the years, the Submariner has retained its rugged sporty appeal while at the same time being sophisticated enough to wear at board meetings.
ROLEX Submariner Ref. 6200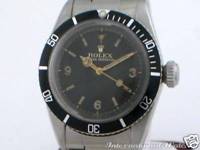 ROLEX Submariner Ref. 5512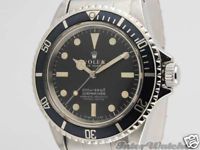 Submariner Ref. 5513 and 5514:
First with Crown guard and The Comex watch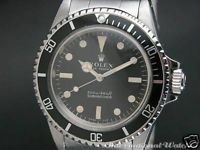 Plastic Crystal Submariner 1680: T
The First Submariner Date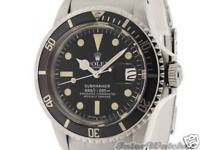 ROLEX Submariner1680-8:
The First Submariner Date 18K Gold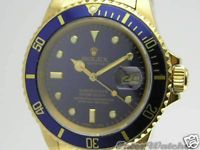 ROLEX Submariner Date 16800:
First Sapphire Crystal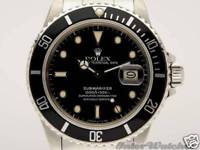 ROLEX Submariner Ref. 16610:
With a  production period from 1986 the to the present, the Rolex Submariner Ref. 16610 has Caliber 3135 movement, 31 jewels and quick-set calendar function.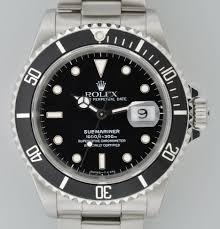 ROLEX Submariner Ref. 16618:
Gold Watch with Superluminova dial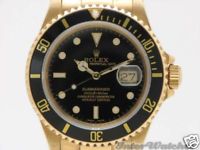 ROLEX Submariner Ref. 16610v:
Green Anniversary Bezel