The most expensive wristwatch ever sold publicly was a Patek Philippe 1518 in stainless steel, which was the very first serially-produced perpetual calendar chronograph. Only four were made in stainless steel and it wasn't shocking at all to see it reach eight-figure heights. The 1518 was also sold by Phillips in Geneva, and just a year ago in November 2016.
The stainless steel Patek Philippe ref. 1518 perpetual calendar with chronograph sold for $11,136,642 at Phillips in Geneva.
That record stood until a few weeks ago when Paul Newmans Rolex Daytona set the new record at over $17,752,500 .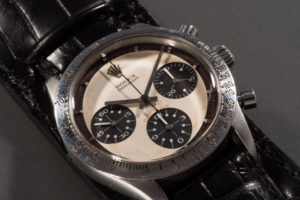 Following a 12-minute bidding war, the reference 6239 Daytona—with its black-and-creme exotic dial, which became known among collectors as the Paul Newman Daytona—just became the most expensive wristwatch ever sold at auction. It sold to a buyer on the phone.
This is the watch that in many ways kick-started the vintage Rolex madness we're seeing today, nearly three decades ago.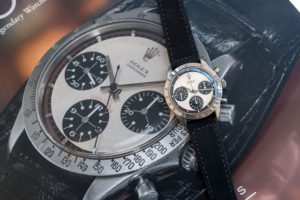 The watch itself is a reference 6239 Daytona with the black-on-creme, three-color exotic dial that we now call a "Paul Newman" dial because of this very watch. The watch dates to 1968, and was a gift to Newman from his wife, Joanne Woodward. The back is engraved with the words "Drive Carefully Me" and the inscription is still fully visible and crisp on the caseback today. According to Nell Newman, her father wore this watch all the time for the 15 or so years that he had it, even using it to time laps at Lime Rock Park, before he eventually gave it to Cox.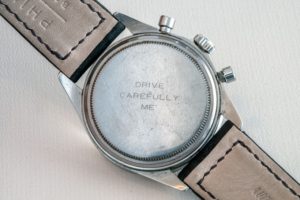 In 1984, a young man by the name of James Cox was dating Paul Newman's daughter Nell and was visiting the family in Connecticut. Paul asked James for the time, and when James said he didn't wear a watch, Paul gave him his.Now, after wearing the watch for a few decades, James has decided to put it up for auction, with some of the proceeds benefiting the Nell Newman Foundation (he and Nell are still good friends, though they broke up a long time ago.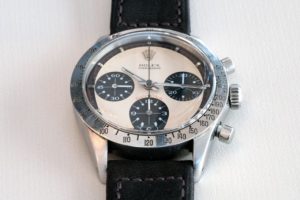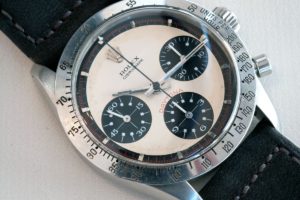 Check this previous blog post on the Rolex Daytona
Info found on these sources:
https://flipboard.com/@flipboard/-paul-newmans-rolex–with-a-telling-mess/f-343a6a999d%2Fwashingtonpost.com
https://www.hodinkee.com/articles/paul-newman-worlds-most-expensive-wristwatch
http://www.esquire.co.uk/style/a18092/paul-newman-rolex-daytona-most-expensive-watch-auction/