Flash, flare and fighting.
For fans of professional wrestling and mixed martial arts, this last week was filled with excitement.
First, on April 5, MMA star Conor McGregor crashed a press conference for UFC 223 in Brooklyn. For those who aren't familiar with the Irishman, McGregor is a title-holder in the UFC and was half of last summer's mega-card boxing match against champion Floyd "Money" Mayweather.
In true spectacular fashion, McGregor ended up throwing an object at a bus carrying some of the fighters, resulting in a warrant for his arrest and booking at a New York precinct.
McGregor — who made at least $30 million off the Mayweather fight, which he lost by a 10th-round technical knockout — isn't one to shy away from showing off his luxury Rolex watches.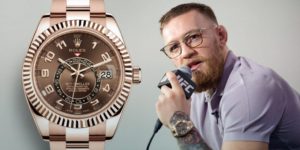 McGregor's Instagram account is littered with photos of him and his luxury watches, especially Rolex. A post from July 2016 shows McGregor wearing an Everose Gold Rolex Sky-Dweller on his left wrist.
Rolex's website describes the watch as a "distinctive technological masterpiece protected by 11 to 14 patents depending on the model." First hitting the marketplace in 2012, "the Sky-Dweller is a compelling timepiece of revolutionary design that blends to perfection mechanical sophistication and ease of use." This particular watch retails between $30,000 and $40,000.