What do you think of when you hear Pepsi?
Maybe it's a refreshing drink on a warm summer day, the brisk drink quenching your thirst — or at least doing enough in the place of your preferred Coca-Cola. Maybe, just maybe, you think of the drink's iconic globe logo, one of the most-recognizable logos among worldwide brands with the intertwining red, white and blue.
The Pepsi logo's color scheme inspired the nickname of one watch in Rolex's GMT-Master series, which was introduced in 1955 and makes reference to Greenwich Mean Time (GMT). The original GMT-Master series was designed in in collaboration with Pan American Airways for their crews to wear on long-distance flights.
Because there was a GMT hand, pilots and other airway staff could set their watches to a certain time zone without having to constantly change the time. Also, GMT is the time flight crews must use for aviation paperwork.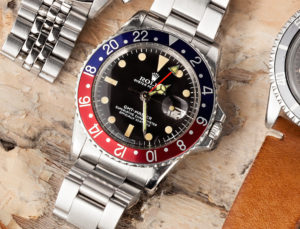 The red and blue colors on the bezel — blue on top, red on bottom — to signify the difference between night and day when reading the second time zone from the GMT-hand.
The GMT-Master Ref. 1675 was produced from 1959 to 1980 and made with stainless steel. Because this watch was produced for a limited time, collectors seek out the faded blue and red color scheme — these Rolex sell anywhere from $10,000 to $25,000.
The GMT-Master Ref. 16750 was produced after the 1675 and debuted in 1981 and ran until 1988. Features include waterproofness and the ability to stop the second hand when the crown was pulled out as a way to more precisely set the time.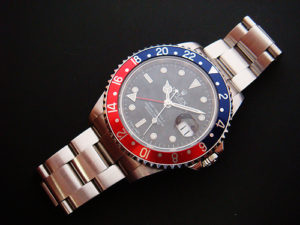 The Ref. 16750 was replaced in 1989 and ran until 2007 and featured the red and black bezel option as well as a black and red scheme and an all-black option. The latest GMT-Master II in the series, launched in 2014, is the 116719 BLRO. This watch was adorned in 18k white gold instead of stainless steel, while the scratch and fade resistant blue-and-red bezel is substituted for the acrylic material. This watch retails for more than $30,000.