With the World Cup set to begin later this week, the world's top soccer (or football) stars will take to the field to represent their respective countries in the month-long competition being hosted by Russia.
The quadrennial event means fans around the world will be glued to their televisions and work office buildings will seemingly see a drop-off in production for the month. If you're not a soccer fan, the World Cup for a fan in a small country like Peru, Morocco or Iceland is like watching the Super Bowl every day for a month.
Speaking of watching, there will be no shortage of signage for Hublot, the official timekeeper of the tournament. Every time there's time to be added to a half or a substitute is ready to enter the game, a sideline official will hold up a sign with the Hublot name prominently displayed.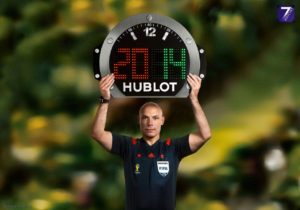 Part of being the official timekeeper also means the referees will be wearing Hublot watches to keep time. Not to be outdone, the Swiss watchmakers designed a special smartwatch for on-field use during the World Cup.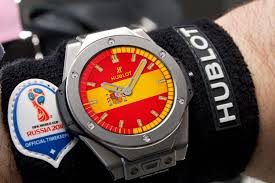 The "Big Bang Referee" watch runs on Wear OS (a rebranded name of Android Wear by Google). Aside from Wi-Fi capability, it comes packed with a day's worth of battery life, a 400-by-400 AMOLED screen and also a 35.4mm watchface.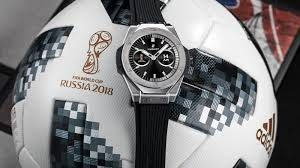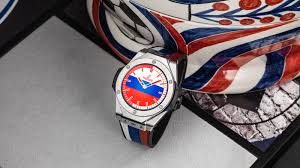 Aside from keeping time, the watch will also automatically let the head official know if a goal has indeed been scored as soccer now relies greater on goal-line technology (to find out if the ball has actually crossed the goal line. Think of how tennis handles slow-motion replay.).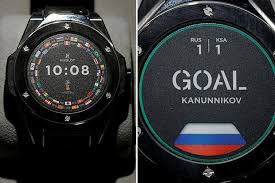 If you can get your hands on one of these limited-run watches, it comes with a $5,200 price tag. However, it will send notifications on the LED screen whenever a goal is scored during the tournament in addition to a countdown clock to the first game and lots of live stats.