In 1972 Rolex added a new feature to the President Day-Date. The technology allowed for wearers to stop the second hand if he or she wanted to reset the time to fit another more accurate source. Later in the 70s, the Day-Date added the "Quick Set" feature. This feature allows for a crown to be easily pulled out to readjust the date, rather than having to turn the entire crown several times.
At this time the shape of the head was essentially the same as it is today. The Day Date was available in white gold, yellow gold, pink gold and platinum although in early 70's  the pink gold watch was fazed out.
The " Quick set " feature (caliber 3055) solved one of the watches biggest problems. Introduced in the late 1970's Quick set was added to all Rolex models by 1983. Instead of turning the crown round and round to change the date the wearer could just pull the button out half way and a few turns at most and the correct date was displayed.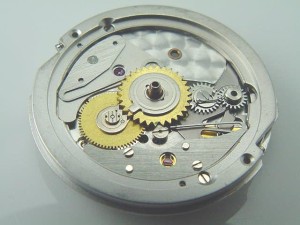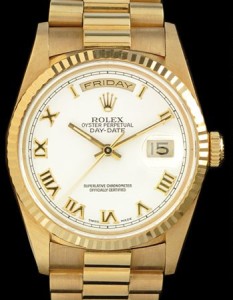 The introduction of the quick set feature also coincided with other developments for the Day Date. The inclusion of the sapphire crystal not only gave the watch a sleeker look but also added to the durability of the watch. The sapphire crystal fitted tighter than the plastic glass employed before and rendered the watch glass scratch proof near enough. The early Day Date models were waterproof to 165 feet ( 50 meters) while the current model is safe at depths of up to 100 meters. At the same time the current model is much slimmer.
Introduced in 1988/89 was the "Double Quick Set" watch with caliber 3155. This was model 18238 and it made the setting of the Day and Date even easier as they could both be done on the crown. Rolex has also increasingly expanded their "Crown Collection" to include all types of precious stones by now although they were available with diamonds on the bezel from their introduction.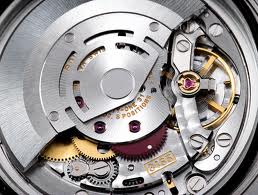 From the end of 2000 the Day Date has been available in pink gold again. The watch has also been introduced with slightly redesigned case with polished lugs, smooth bezel is now domed, a domed sapphire crystal, solid center links on now heavier bracelet  and can also come on an oyster bracelet to bring it in line with many of their other models.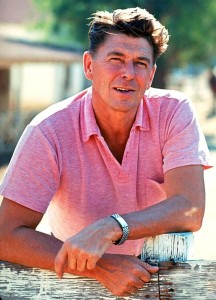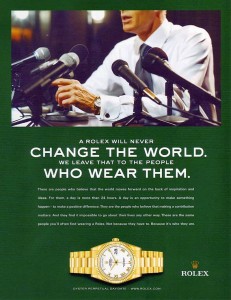 The Rolex "President" Day/Date the has become synonymous with class and style. This watch remains one of the most prestigious additions a man can add to his wardrobe.