Since first debuting in the film "Dr. No" in 1962, the iconic film spy James Bond has been linked to wrist watches. Always a man of class, Bond has worn watches by Rolex, Breitling, Hamilton, Seiko, and Omega during his various film appearances over the years. Because of the double-oh-seven character's popularity, many special edition watches celebrate the character's film franchise, with many of them in high demand by watch enthusiasts.
Sean Connery and Rolex Model #6538 Submariner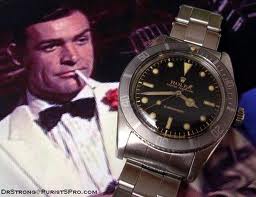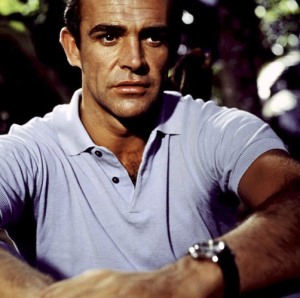 In the first 'Bond film, 1962's Dr. No, Sean Connery could be seen wearing a Rolex Submariner reference 6538. Because diving was popular in the early 60's, it made sense for the first 007 character to wear a diver's watch—dive watches became a symbol of a bold and adventurous lifestyle, something James Bond was definitely meant to represent. Due to Connery's iconic portrayal of the role and loyalness to the Rolex brand across all of his 007 films, many watch collectors today still refer to the reference 6538 and similar watches as "James Bond Submariners."
Seiko Digital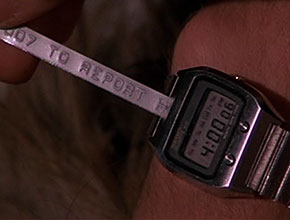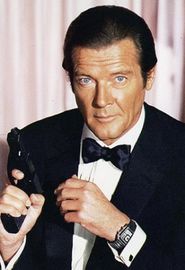 By the time Roger Moore took over the reins as the character in the 70's, quartz watches had become popular, and it only made sense for James Bond to change with the times and go digital. In 1977's The Spy Who Loved Me, Moore's Seiko 0674 provides a functional advantage to its older Rolex counterparts by being able to print out messages to the top spy directly from HQ.
Pierce Brosnan and his Omega Seamaster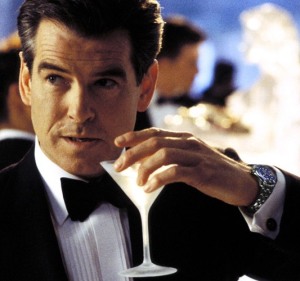 By the time Pierce Brosnan took up the mantle in the 90's, the costume designers wanted a classic watch to match the new leading man. By then, though, the classic Rolex Submariner had become a fairly common watch, causing this new version of Bond to instead opt for the Omega Seamaster. The Omega company had had a long history with the British military (especially with Royal Navy divers in the 60's) so changing timepieces as the character changed actors seemed fitting.
Daniel Craig with is Omega Planet Ocean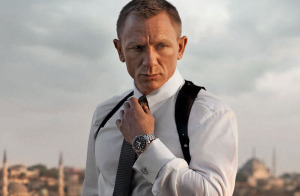 007 has been exclusively an Omega man, with Daniel Craig's character in Casino Royale (2006) and Quantum of Solace (2008) opting for the Planet Ocean, and Seamaster Planet Ocean watches, respectively, and also the Seamaster Aqua Terra in Skyfall (2012).