Starting in 1915 with the building of a chronograph with a longer seconds hand built onto the center axle, Breitling has been a strong ally to the world of aeronautics. This first new chronograph made it easier to track the movement of the seconds hand, making the chronograph much more useful for airplane pilots. Later in 1936, Breitling introduced its first on-board chronograph model, effectively providing pilots a form of built-in timekeeping device in their planes. This helped also make Breitling the official supplier to the Royal Air Force in the same year. In 1942, Breitling also began to receive similar business from the American armed forces. From then and even into the present day, Breitling continues to brand itself as a company tightly linked to all things aeronautic.
In modern times, Breitling can be seen sponsoring a handful of different flight-related groups, including the Breitling Jet Team, Yves "Jetman" Rossy and his carbon-Kevlar jetwing, and the Breitling Wingwalkers.
Breitling Navitimer Chronograph

Breitling Jet Team
Breitling's jet team is the second largest civilian aerobatic display team in Europe. It is based out of Dijon, France, and includes seven Aero L-39 Albatros jets. The team formed in 2003 with four planes, grew to six in 2004, and nine in 2008.
Their 18-20-minute shows involve formation flying, opposition passes, solo routines, and synchronized maneuvers. Usually, the team perform across Europe and Middle East including at international airshows and Breitling corporate events. In 2015, however, the team will visit the United States, performing (at least) at the EAA Air Venture Oshkosh, and at the National Championship Air Races in Reno, Nevada.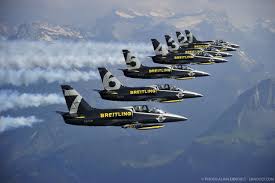 Yves "Jetman" Rossi
Yves Rossy is a Swiss pilot and aviation enthusiast most well-known for inventing an individual jet pack (which he personally flies) made with carbon-fiber wings. Earlier in his life, Rossy served as a fighter pilot in the Swiss Air Force and as a Boeing 747 pilot for Swissair and Swiss International Air Lines. Later, he would begin building his jetpack using carbon-fiber wings, four Jet-Cat P200 jet engines adapted from kerosene-filled model aircraft engines, and a backpack apparatus to hold it all together.
For controls, Rossy added a hand-held throttle to control the engines, and left the steering to movements of his own body; Rossy's jetpack allows for him to use the movements of his shoulders, body, and legs to steer, pitch, and descend. Rossy's four engines allow him to reach speeds in excess of 150 mph.
Under Breitling's sponsorship, Rossy has been involved in some interesting projects. In 2011, Breitling sponsored Rossy's short flight two-hundred feet above and across the Grand Canyon after launching from a helicopter. Later, in 2013 Breitling replica also sponsored the 'Jetman's' travels to the United States, where he participated in the EAA AirVenture Oshkosh fly-in and the Reno Air Races.

Breitling Wingwalkers
According to their website, Breitling's "Wingwalkers" are the "only aerobatic formation wingwalking team." The team pilots fly special Boeing Stearman biplanes and guide their aircraft through a routine of different close formation flypasts and aerobatic maneuvers. While this is happening, the team's "wingwalkers" themselves perform more acrobatic maneuvers (including handstands) while standing on the bottom wings of the planes. While the 'walkers are strapped to the top wings for safety, the planes may go through loops, rolls, stall turns, and even inverted flying.
Breitling's team has participated in over 2500 different events, and are watched by over 6 million spectators each year in the UK alone. They perform about 90 times in 50 different locations, across about 7 countries during one of their "typical" performance seasons. And, for those who have the money, the group can even be booked to perform at any public or private gathering—so long as said gatherings have "open countryside or water adjacent" to them. More information on booking the team can be found on their website.