In this weeks post ,we will take a look at the date mechanisn in a Rolex 3035 and the Omega Co-Axial. The Omega uses an ETA type date that has been aroud for many years. It is simple, sturdy and works great. It is very easy to service, no hidden springs to cause trouble and is one of my favorites to repair. The Rolex works well, but is a little more complex, has a few tricky levers and jewels to deal with. It also works well, but you really need to be careful when working on this one.
Omega Date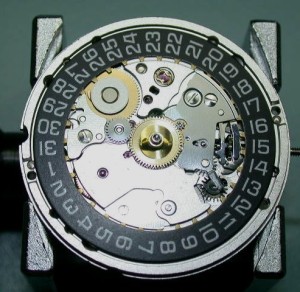 The Omega date is the essence of simplicity, well thought out, no hidden dangers for the watchmaker. A simple quickset also is a big bonus.
Rolex Date
The Rolex date is also well designed, works fine with no major issues. You do need to be careful with the small jewel that is loose on the underside of the date trip wheel. This one has a lever and spring attachment and takes a bit of practice to oil properly without losing anything. The date normally snaps over properly, but it also has more moving parts to deal with.
In this comparison, I am going to give the slight edge to the Omega. For me, it is just an easier design and much quicker to repair, it works everytime, parts if needed are available and there are no surprises waiting for me. Less parts to possibly lose, always a big factor when doing any repair. First victory for the Omega!!!!