I get this same call at least once a month.  The customer just noticed that his watch has suddenly "fogged up" after he (took a shower, went swimming, got caught in the rain, etc) Most of the time they say that the watch has been perfect for "years" and has never done this before.  They have been showering, swimming etc. with it on and now are a bit puzzled as to why it is wet.  I tell them that if you notice a lot of condensation under the crystal or water on the dial, it needs to be serviced immediately.  The longer you wait, the more likely to have major rust damage, damage to the dial and hands etc,  so it needs to get here in a hurry.  I always tell them that I will clean the watch as soon as it arrives, they go to the head of the line when it is wet.
My normal work schedule is mostly like this: watches arrive by mail at  the shop in the morning, my wife will unpack them during the day, then in the evening I will try and take a look at that days watches to send out estimates in the evening.  Most days I work until 9-10 to try and get things caught up.  The worst situation is when I open up a watch at 9:00 pm and find that it is very wet.  Once I open the case and expose the movement to air, it is going to start to rust very quickly.   This means that late in the evening, I am now taking a watch apart to try and save it.  The problem is with wet parts, they can't go right into my cleaning machine.  My cleaning solution is not compatable with water, so each part needs to be "pre -cleaned and dried" before I can actually run it though my machine.  This slows down the process and takes a lot of extra time for me.   I also need to try and clean off all the rusty parts before it goes into my machine, again, lots of extra time late at night.
The next few pictures will give you a quick example of the watches that I have seen over the past few weeks and the damage done by water.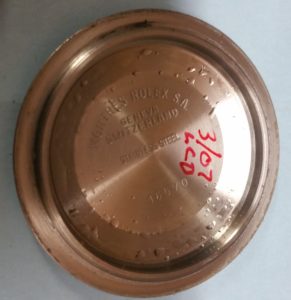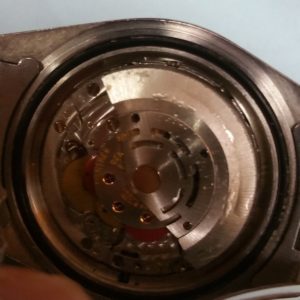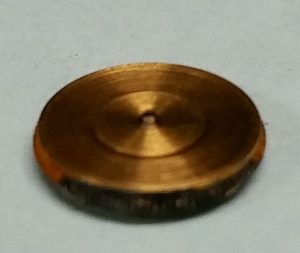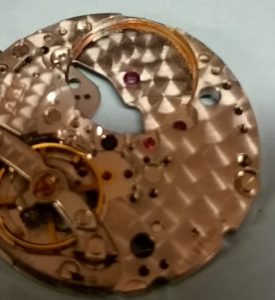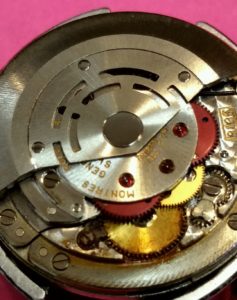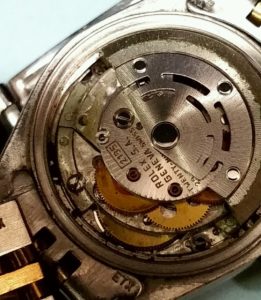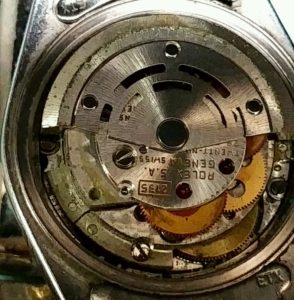 The conclusion to this post is simply this: Have your watch serviced regularly and do your best to keep it out of water. Keep in mind that watch case gaskets dry up over time and this will allow moisture into your watch, the only way to avoid the "wet watch problem" is proper maintenance and common sense.  If you have a vintage watch of any type, never get it wet.