A Braille  watch is a portable timepiece used by the blind or visually impaired to tell time. It is used by touching the dial and noticing the embossments. Both analog and digital versions are available. The analog versions have a protective glass or crystal cover that is flipped open when time needs to be read and the clock-hands are constructed to not be susceptible to movement at the mere touch of the finger that a blind person uses to observe their positions. In the digital form, the dots keep changing position as time changes. In this case, one must understand the Braille alphabet to read the watch.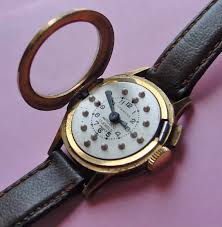 Electronic talking watches, which speak the time at the touch of a button, are also popular among blind people.
How Do Braille Watches Work?
Most older style Braille watches have a standard mechanical movement that are straight wind. They have heavy duty hands that will not bend when touched by the wearer. None would have a sweep hand. The flip top is normally opened by a button on the side of the case.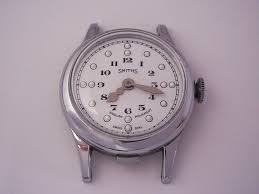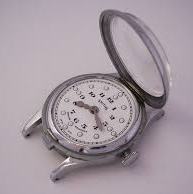 Those with sight challenges have tools that help them get through a day even though they cannot see. Reading, typing, getting lunch and telling time can all be difficult for a person who is blind.
Telling time can be tough for a person with a hard time seeing.  Fortunately, there are wristwatches that can be found with braille on them. A lot of these watches have a flip top so the braille and hands are not damaged throughout an active day.
Modern  Dot brand Braille smartwatch
Unlike most smartwatches for the blind which rely on audio prompts, the Dot displays messages four braille characters at a time on its screen.
Its round face displays four cells of six balls each, and allows users to send simple replies or actions back through its two side buttons.