The Jaeger-LeCoultre Master Ultra Thin Squelette watch is, by a margin of just 0.05 millimeters, the thinnest mechanical watch in the world. The previous record of the thinnest mechanical watch was held by the Piaget Altiplano 900P, which came in a case that was just 3.65mm thick.
The Jaeger-LeCoultre Master Ultra Thin Squelette is a mere 3.60 millimeters thick – that is, of course, including the case, movement, dial, hands, and both sapphire crystals. It also happens to be both skeletonized and decorated as well.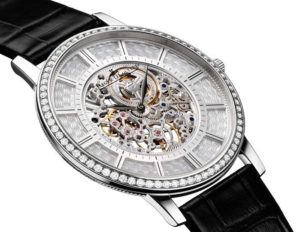 The hand-wound movement that makes this ultra-thin achievement possible is the Jaeger-LeCoultre Calibre 849ASQ, containing 119 components and 19 jewels, and offering a 33-hour power reserve.
The caliber has been extensively skeletonized by hand, removing any and all redundant material until only the skinniest bridges are left. The movement itself is a mere 1.85 millimeters thick, again, quite incredible – so thin, in fact, that we have no doubt it could actually bend under relatively little pressure.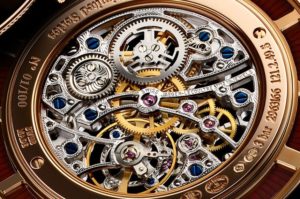 The dials of all Jaeger-LeCoultre Master Ultra Thin Squelette watches have been divided into 12 chapters, improving legibility and framing the ultra thin caliber. These chapters have either been decorated with hand-engraving or patterns created with guilloche machines, and are either hand-painted with enamel.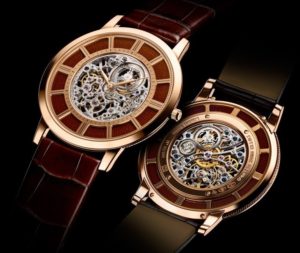 To put the size of this watch into perspective, it is thinner than iPhone 6 (6.9mm),two nickels (3.9mm),a stack of five credit cards (3.8mm),  and it is exactly the size of 3 CDs.
While the different versions are limited to 100 numbered pieces each, the Jaeger-LeCoultre Master Ultra Thin Squelette pink gold and white gold models are $58,500 and $61,000, while their diamond-set counterparts are $72,500 and $75,000 USD, respectively.
Piaget Altiplano 900P
Before Jaeger-LeCoultre introduced the Master Ultra Thin Squelette, the world's record was in the hands of Piaget with the Altiplano 900P. This watch measured 3.65mm thick. However, this watch is rather unique in its construction, as the caseback is used as main plate for the movement – a solution found to gain space, as well as moving the hands off the center of the watch, in order to prevent some wheels to overlap. Before this one, the title of the slimmest watch was held by Jaeger-LeCoultre, with the Master Ultra Thin 1907 (measuring 4.05mm thin). The world's record 3.60mm Jaeger LeCoultre Master Ultra Thin Squelette is actually the skeletonized version of this watch…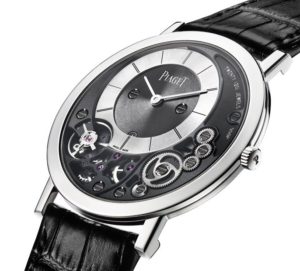 The Altiplano installed the movement's components onto the case back  while the Jaeger-LeCoultre Master Ultra Thin Squelette uses a more usual movement architecture with plates, bridges, as well as two sapphire crystals allowing for a see-through experience.