I receive phone calls and emails every week from customers that tell me their watch is not running well and they haven't had it serviced in "many years".  They are sometimes proud that they have worn their pride and joy for 20 plus years and never had it serviced.  I try and explain to them that although it is nice to hear that the watch is still running well, this info is not really what any repair person wants to hear. Just imagine running your car for years and never taking the time to change the oil!!  I thought that it might be a good idea to do a blog post describing what is done during an overhaul and why you should service your watch on a regular basis.
Why have your Rolex serviced?
The longer you go between servicing, the more extensive the wear is likely to be, the more parts need replacing, the more expensive it will be. Don't necessarily rely on the watch's accuracy to determine when it should be serviced.
When should I service my watch?
A car's oil should be changed every 3,000 mile's, your Rolex should be serviced every 3-5 years.
A common misconception among many is that high-end timepieces do not have to be serviced regularly. Actually your Rolex should be serviced every three to five years. Just like other luxury items that need routine maintenance, so does the Rolex. You might be making a drastic error in the future, by thinking that your Rolex does not need to be serviced regularly. Don't wait for a problem to happen, get routine maintenance your Rolex.
Complete Overhaul
A complete overhaul includes the complete disassembly of the watch case, bracelet, and movement. The case and bracelet are ultrasonically cleaned, polished, and refinished. The process removes scuff marks and scratches . The movement is ultrasonically cleaned, and then reassembled.The movement is electronically calibrated and placed into the case. The completed watch is pressure tested to check water resistance.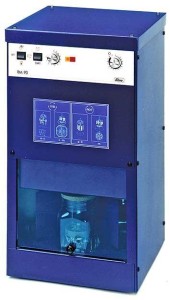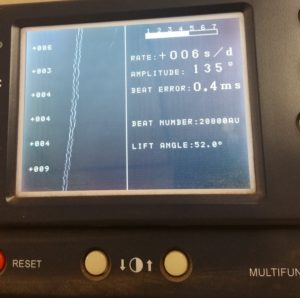 Pressure Test
Most watches are water-resistant, however no watch is truly waterproof. A water-resistant watch has gaskets that help protect the case against average water pressure at a stated pressure or depth. Your watch should be pressure tested every time the case is opened to perform any inspection or service to test for potential leaks and its ability to maintain the manufacturers original pressure standards.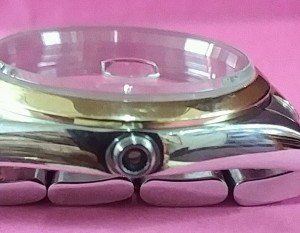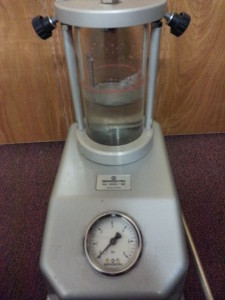 Check this blog post on how a watch is pressure tested
 Rust damage on a Rolex
The worst thing that can happen to your watch is water and rust damage.  This is mostly caused by customers that never service their watch or have a plastic crystal that breaks without being noticed. A watch can leak from the crystal, crown/case tube or the case back. All of those gaskets need to be in good condition for the watch to stay water resistant.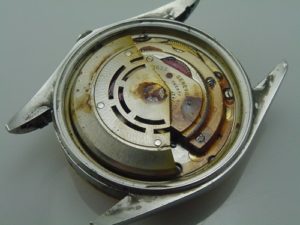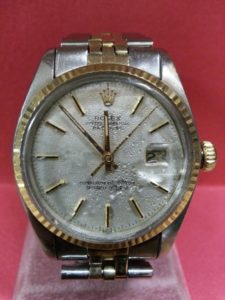 Rolex overhaul cost
Cost is $200 plus the return Express mail shipping. My normal turnaround time is 2 weeks or less.
I give you a One year warranty on every overhaul.
Why is my price less expensive than other repair shops or the factory?
My answer to this question is -Why are other repair shops and the factory so overpriced!! I have been a watchmaker for over 40 years and live in a small town and have a shop with low overhead. I feel that it is better to keep my prices down and do more quality watch repair for my customers and keep repeat customers, rather than overcharge on each repair. I do each repair job one at a time and pay special attention to the needs of each individual watch repair.
I don't have a multi million dollar advertising budget, I don't sponsor Wimbledon or the Olympics!
The Rolex factory normally charges $600-$800 for an overhaul and turnaround time varies from 6-8 weeks!
What is done during an overhaul of your Rolex:
Your watch is completely taken apart during the overhaul process
Disassembly of the watch & movement.
Ultrasonic cleaning.
Inspection for corrosion/friction fatigue.
Proper Lubrication .
Replacement of all gaskets and seals.
Water-pressure test to Rolex specs.
Timing calibration.
Polish case, band and crystal.
-4/+6 official COSC timing test
Mans Rolex 3135 movement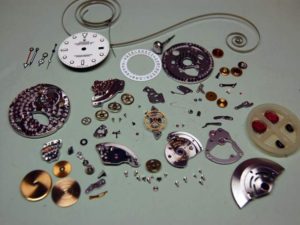 If you have any questions about the repair of your Rolex, please call or email me:
Phone  1-814-837-9435   Cell – 1-814-558-4818      Email – watchdoctorpa@gmail.com
I will gladly give you names and email address of previous Rolex customers if you would like to contact them before sending your watch in for repair.
Check my Google site for more customer revues