The last few blog posts were about the "Tools of the watchmaker's trade" and seemed to be well-received by my readers.
I had a few people wonder how a watch is overhauled, step by step. I thought this was a great idea, so today is Part 1 of "How to Overhaul a Rolex model #3135."
---
The first task in the overhaul process is to remove the movement from the case.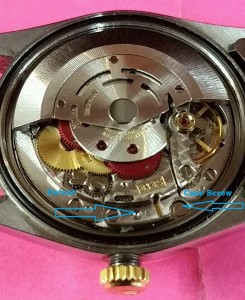 On a Rolex, you need to do two things. First, remove the stem. Then loosen the two case screws. To remove the stem, you push down on the detent, then pull out the stem. The case screws are just screwed "down" to loosen them. Then the movement is turned so that the case screws line up with the openings in the case, and the movement can be removed.
---
Next, the hands and are removed then the two dial screws are loosened and the dial is removed.
The picture shows the date mechanism before it is taken apart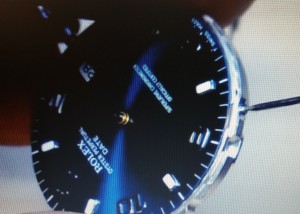 ---
Then the date ring removed.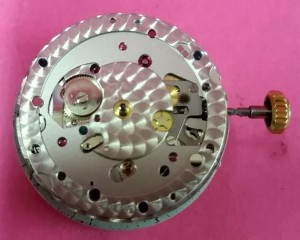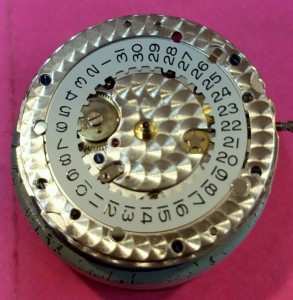 ---
The date bridge is removed and the date is taken apart and ready to clean.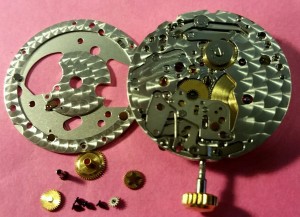 ---
Next the automatic unit is removed, taken apart and ready to clean. Very simple auto on every rolex, well thought out and sturdy.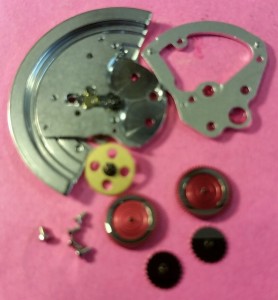 ---
Then the barrell bridge and mainspring are removed.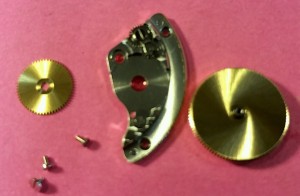 ---
The mainspring barrel cap is removed so that it can be cleaned properly. You can see the old dried up oil stuck to the barrel cap.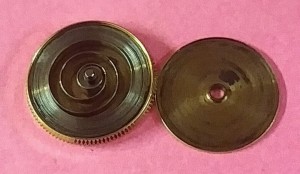 ---
The train bridge is removed and the train wheels and center post are ready to clean.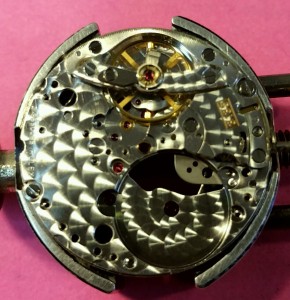 The main plate is stripped and ready for the cleaning machine. You will notice that I leave the balance installed in the main plate. The safest place for the balance is right where it belongs — in the main plate. It will clean just fine and there is little chance to damage the hairspring or staff.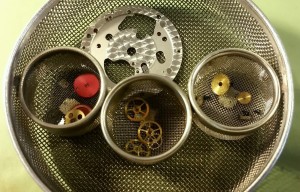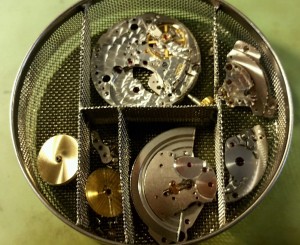 All of the parts are now neatly put into the various compartments of the cleaning basket. I put the parts in the basket the same way EVERY time. No change of order ever. I keep the screws and wheels separated so there is no guessing when I start the reassembly process. Even though I can put this watch back together blindfolded, I want everything in its proper place.
Next week, we will continue with the process. The movement will come out of the the cleaning machine and we will go over the assembly and oiling steps.
---
---
CHARLEY PHOTO OF THE WEEK: Guard dog Charley was making sure the yard was safe from the bunny family in the next yard.