Cars and watches are a natural fit. Both are traditionally mechanical and both are products of complex and precise engineering. The watch itself has played an integral role in early motor racing.
Early race car drivers wore bulky stopwatches strapped to their wrists to time laps and calculate speeds. Later driving watches had angled dials for easy reading without taking a hand off the wheel.
---
Rolex Daytona
For many, the love of watches and cars is attributed to celebrity drivers such as legendary race car driver and actor Paul Newman who famously sported the Rolex Daytona as he stood by his cars and drove them. To this very day, Paul Newman epitomizes cool elegance.
It's because of Pail Newman that the Rolex Daytona is considered one of the most important time pieces in the history of watchmaking and racing. He became synonymous with the brand and so closely affiliated, not for profit, but for a true passion and love for the watch he wore on his wrist. His timeless masculinity created an image that embodied everything Rolex stood for, and of course it could be said the other way around. While Newman and Rolex didn't invent driving watches, they certainly leant a hand in publicizing them. It is because of this relationship between driver and watch that so many brands have continued to market to the motorsport industries.
---
Steve McQueen Heuer Monaco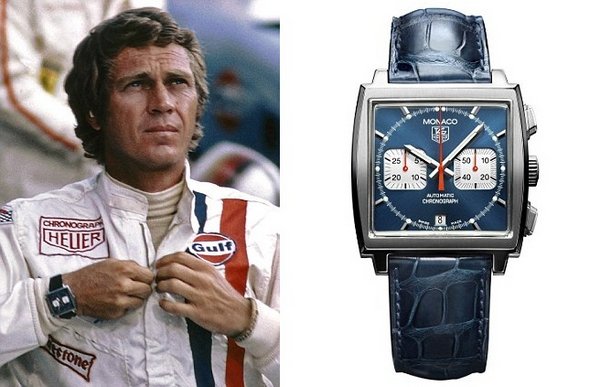 Before there were chronometers bearing his name, Steve McQueen was known for strapping a Heuer Monaco on his wrist during his role in Le Mans. The squared-off, automatic watch with side-mounted push buttons became a McQueen signature as he portrayed a Porsche-driving racer. Few "McQueen-inspired" watches stand the test of time as well as the Monaco has.
---
Tag Autavia
Developed originally for use in automobile and aviation dashboards, the Autavia takes its name from the first parts of "automobile" and "aviation." With a huge range of models over the last few decades, it's easy to find one that suits your personal taste and style.
This is pretty much the godfather of the driving watches and a respected piece in any car loving horologist's collection.
---
Omega Speedster Racing Co-Axial Chronograph
From the brand that went to the moon, the Speedmaster Racing Co-Axial features a classic design, offers a tire-tread band as an option, and sports one of the best in-house, truly unique movements available for less than the price of a McQueen relic..
---
Omega Chronostop
If you're wearing the Chronostop like an ordinary watch — you know, on the top of your wrist — telling the time is a weirdly awkward, confusing exercise. This watch wasn't meant to be worn like your trusty Speedmaster. You're supposed to wear the Chronostop under your wrist when you're driving a car — a race car, in fact. At that angle, the 12 o'clock position is vertical as usual, so you can read the watch at a glance.
---
Breitling Top Time Racing
Breitling may be mostly known for aviation, but in 1964, the Top Time series became the company's most popular model among young, thrill-seeking types. Sean Connery, who wore one in Thunderball, was one such personality. So was Jim Clark, the two-time Grand Prix world champion. The Racing variant, reference number 2211, is an incredible, intricate masterpiece of the late 1960s and early 1970s.
---
Mark Sirianni Watch Repair
25 Fraley Street
Kane, Pa. 16735
814-837-9435
814-558-4818 (cell)
[email protected]