Since its invention in 1761 by John Harrison of England, the marine chronometer has been used for navigational purposes. Its precision and reliability for accuracy to within seconds are truly remarkable. As a result, many marine vessels were kept safe and on course for hundreds of years.
To find longitude at sea, a chronometer would be set to the time of a place of known longitude, like Greenwich, England, the prime meridian. That time, carried to a remote location, could be compared to local time. Because one hour of difference in time equals 15 degrees difference in longitude, the difference in time between the chronometer and local time would yield local longitude.
World War II created a dire chronometer shortage for the United States.
Anticipating the arrival of war, the U.S. Naval Observatory had asked American domestic watch manufacturers in 1939 for their participation in mass-producing chronometers. Domestic watch manufacturers Hamilton and Elgin agreed to undertake the design and production, but only Hamilton's product met Navy accuracy requirements. Hamilton delivered two prototypes to the Navy on 27 February 1942, which passed with an error rate of 1.55 seconds per day. The firm went on during the war to mass-produce 8900 more chronometers for the Navy, 1500 for merchant shipping and 500 for the Army. Between 1942 and 1944, the price dropped from $625 to $390 per timekeeper.
Hamilton's design for its Model 21 chronometer did not copy traditional European standards. Instead the design introduced key changes to improve accuracy., including the famous ovalising balance.
American Hamilton Model 21 Marine Chronometer
This Hamilton chronometer has a 14-jewel chain fusee-driven movement with chronometer detent escapement. It also features a poised balance wheel and maintains a 56-hour power reserve. It has an engraved silvered dial with Arabic numerals, seconds dial, and winding status indicator. Additionally, the dial is signed "Hamilton, Lancaster, PA; U.S. Maritime Commission"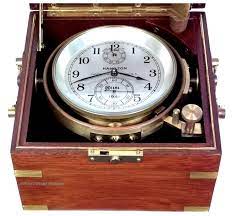 Mark Sirianni Watch Repair
25 Fraley Street
Kane, Pa. 16735
814-837-9435
814-558-4818 (cell)
watchdoctorpa@gmail.com

CHARLEY PHOTO OF THE WEEK: April is a big birthday month at the watch shop. Tom celebrated his earlier this month and was followed right behind by Charley, who was thrilled to be wearing her special hat for her special day.