In the following post I will give  you some reasons why you should keep your watch out of water.
Every week I get at least one phone call from a customer that owns a Rolex and they say that they have had their watch for many years and it is running great, but "might need service". They sometimes brag about how they swim, shower, jump in the hot tub with their prized rolex and nothing ever seems to bother it. I tell them that this is a great story, but for every one customer that "gets lucky" with this type of behavior, I get 10 phone calls from other not so fortunate Rolex wearers that tell me that their watch has "fogged up" or is currently full of water.
For example, the crystal pictured below came in on  a good looking mans Datejust for a simple overhaul. I did the normal service, buffed and polished the case, buffed the crystal and did the pressure test. Nothing out of the ordinary, the crystal looked perfect from the top, the buffing removed any surface scratches and I thought we were good to go. I put the case into my pressure tester and it promptly flunked very badly!!  There was a slight crack in the crystal that was covered up by the front bezel. If this customer would have continued to wear this watch and happened to jump into the shower of worse, the pool, then this simple overhaul would have not been so simple after all. I promptly replaced the crystal and repressure tested it and we are back in business.
Rolex crystal with small crack that is hidden by the front bezel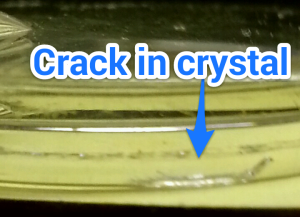 Your watch can leak from 3 places on the case
Crystal
Crown/case tube
Case back
During a Rolex overhaul, I change the case back gasket, the case tube gasket and also the gasket that is inside the crown. The case tube itself needs to be checked to make sure the inside and outside threads are still in good condition.
Different types of gaskets that are used on a typical Rolex.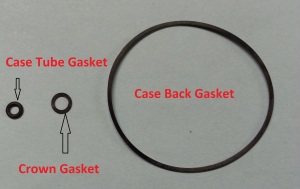 Rusty stem on an Omega Seamaster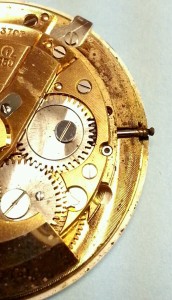 Rolex that is full of water after the crystal failed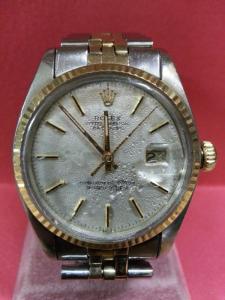 Even though your Rolex(or other fine watch) is water resistant, it needs to be serviced every few years to change the gaskets and have it pressure tested. Even after all of these precautions are done, I still suggest that EVERY watch that I repair stays out of water. I have just seen too many fine watches ruined by water over the years to ever take a chance on getting it wet.