The Speedmaster Omega Co-Axial Chronograph will forever be known by its nickname of the "Moonwatch" for good reason—debuting over half a century ago, it has been a regular timepiece on all six Apollo lunar landings and was the first, and only, type of watch to be worn on the lunar surface.
According to legend, in 1962 NASA's flight equipment buyer went to a watch shop in Texas where he bought a handful of different chronograph watches, including the Omega Speedmaster. These watches were intended to be evaluated for their usefulness in space for the Gemini and Apollo space missions. According to a NASA engineer, however, the agency analyzed submissions by Breitling, Rolex, Omega, and models from other companies in order to decide their usefulness in space. (The Hamilton Watch Company–known for their namesake high-quality pocket watches–submitted a pocket watch as their entry. subsequently disqualifying them from the running entirely.) The three finalists for NASA's consideration (Rolex, Longines-Wittnauer, and Omega) were subjected to a number of tests under extreme conditions:
High temperature: 48 hours at 160 °F (71 °C) followed by 30 minutes at 200 °F (93 °C)
Low temperature: Four hours at 0 °F (−18 °C)
Temperature cycling in near-vacuum: Fifteen cycles of heating to 160 °F (71 °C) for 45 minutes, followed by cooling to 0 °F (−18 °C) for 45 minutes at 10−6 atm
Humidity: 250 hours at temperatures between 68 °F (20 °C) and 160 °F (71 °C) at relative humidity of 95%
Oxygen environment: 100% oxygen at 0.35 atm and 71 °C for 48 hours
Shock: Six 11ms 40 g shocks from different directions
Linear acceleration: from 1 to 7.25 g within 333 seconds
Low pressure: 90 minutes at 10−6 atm at 160 °F (71 °C) followed by 30 minutes at 200 °F (93 °C)
High pressure: 1.6 atm for one hour
Vibration: three cycles of 30 minutes vibration varying from 5 to 2000 Hz with minimum 8.8 g impulse
Acoustic noise: 30 minutes at 130 dB from 40 to 10,000 Hz
After all of these tests, it was the Omega watch that stood as the lone survivor. The Rolex entry failed due to its inability to withstand humidity and high temperatures; at high temperatures its hands bend and became stuck. The Longines sample's didn't hold up to very well, either; its crystal became loose multiple times during testing and its movement also stopped working properly at some point, as well. At the end of the day, it was only the Omega Speedmaster that was able to satisfactorily pass all extreme laboratory tests and qualify itself for space usage.
Gemini Program
Astronauts Gus Grissom and John Young wore the first qualified Speedmaster watches on the Gemini 3 spacecraft on March 23, 1965. Later, Ed White would make the first American space walk during the Gemini 4 mission while wearing a Speedmaster 105.003 strapped to the outside of his G4C space suit. In order to fit on the space suit, the watch was attached to a nylon strap secured by Velcro. The Speedmaster model would see itself issued to all future Gemini crews until the program's end in 1966.
Apollo Program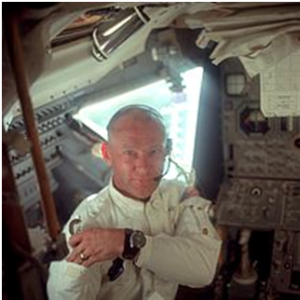 In order to better associate the Speedmaster brand with the American space program, Omega began adding the "Professional" title to their models after Gemini 4. In 1966, the Speedmaster 105.012 model was updated to the 145.012 model, and it would be these two models that would be worn by the Apollo astronauts on the moon—the original "Moonwatches." While astronaut Neil Armstrong ended up being the first man to set foot on the moon, his 105.012 Speedmaster was actually absent from that first spacewalk; because the Lunar Module's electronic timer had malfunctioned, Armstrong left his watch onboard in order to keep it safe and make sure it could be used as a backup if necessary. Because of this, it was actually Buzz Aldrin's Speedmaster that ended up being the first real "moon watch."
Unfortunately, Aldrin's watch was later lost when sent to the Smithsonian Institute, making its actual model number unknown. (It's traditionally believed that Aldrin's watch was a 145.012 model.)
Apollo 13
During the 1970 Apollo 13 mission, astronaut Jack Swigert had to rely on his Speedmaster to accurately time a course correction, which allowed the crew to successfully return to Earth after the rupturing of the Service Module's oxygen tank. Because of the watch model's part in potentially saving the lives of the American astronauts, the Omega company was awarded the Snoopy Award, an award usually given to NASA employees and contractors for achievements in human flight safety or mission success.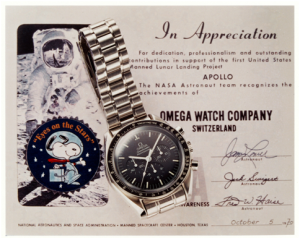 The Snoopy Award reads, "For dedication, professionalism, and outstanding contributions in support of the first United States Manned Lunar Landing Project Apollo. The NASA Astronaut team recognizes the achievements of Omega Watch Company, Switzerland."
Bulovas In Space
Although Bulova lost their space race with Omega to have the first watch on the moon, the watch company did win itself a small victory. Because NASA wasn't totally sure how effectively (if at all) mechanical watch movements would fare in low-gravity situations, all of the panel clocks and time-keeping mechanisms in the Apollo 11 spacecraft were made with Bulova Accutrons with tuning fork movements. These movements were electrically powered, which made low-gravity a non-issue. An Accutron 214 movement was also placed on the moon in a communications relay device during the Apollo 11 mission.