I have been very fortunate over the last 37 years to be able to work on just about every type of mechanical and quartz watch that you can think of. Everything from a Timex to a Rolex and everything in-between. After thousands of watches, it is understandable that I would have a favorite. My all time favorite watch is the Hamilton 992B pocket watch. You might think that I would pick a Rolex Datejust or maybe an Omega Seamater, but for me there is no greater pleasure than working on a good Hamilton pocket watch. There is absolutely nothing fancy about the 992b, it is just a good solid, well thought out design that runs well and very rarely gives you many surprises. It is easy to replace the balance staff(not my favorite job) the mainspring is also easy and inexpensive to replace. Best of all, it just does its job and runs well. It is a bit like a sturdy pickup truck, nothing fancy, just built to work hard very day without a lot of hype and fanfare.
One of the best things about a 992b is how pretty it sounds.
Construction
21 friction-set ruby and sapphire jewels. All upper jewel settings are gold.
The center wheel is round arm gold, and the third and fourth wheels are round arm gilt.
The escape wheel is steel.
Factory adjusted to keep accurate time in all 6 positions.
992B has the new Elinvar Extra hairspring. It is white; the older regular Elinvar hairsprings were blue.
Cases
There was but one 992B movement at any time, but you could order it and today you can put it in an almost unlimited number of cases.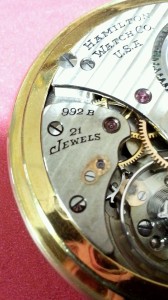 The 992b is 21 jewel movement
Adjusted to 6 Positions and also Temperature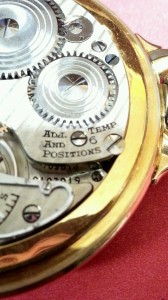 I would enjoy hearing from all my customers on what their favorite watch is. I will compile a list and post the results in a future blog post.