I recently had the good fortune to be able to work on an interesting project.  The idea was to turn a standard Hamilton 4992B into a wrist watch.  I was contacted by a good customer and went over the details of what he had in mind and the following is his description of the process and a few pictures of the finished project.
The project started a little over a year ago when I saw some watches on ebay which had started out as Hamilton 992B's and had been converted to wristwatches.  I thought that this would be a neat idea, but wanted to use an original dial.  This would not be possible because of the need to rotate the movement 90 degrees for use was a wristwatch. Additionally, the 992B movement did not have a hack function.  I did some research and discovered the 4992B movement which had the hack function.  In addition, with the seconds in the center, and not as small seconds down at six, the 4992B movement seemed to fit the bill quite nicely.  In my effort to make a watch capable of functioning in a modern world, and capable of modern accuracy, I settled on the 4992B.  I later found out that I would not be able to use an original dial in the project.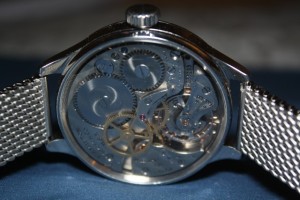 I had made some inquiries on one or two watch collector web sites to gather info.  I was told by more than one person that this was not a good idea due to the lack of shock protection.  These were pocket watch movements which were not designed to be used as wristwatches.  So the project came to a screeching halt.  That is until I heard from Dave Hickman in Alexandria, Tennessee.  Dave is a retired railroad worker with a love for pocket watches who has assembled a number of such pieces and has worn one daily for years without incident.  He said that as long as one wasn't wearing it while operating a jackhammer,  things would be okay.  So the project was on again!  Dave, while not a formally-trained watchmaker, a fact he made quite clear, had some sources for parts.  It took me until November to find a naked movement on ebay.  I forwarded the movement to Dave and he set out to find the needed other parts.  The case was sourced from Germany.  The hands were new old stock, also from Germany.  The crystals were made by William White in San Francisco.  The dial was made by John Harr in Florida according to a design that I had created (it is computer-generated and printed on high-quality photo paper).  I am not a fan of straps.  I more favor bracelets.  In my campaign to find a bracelet that would create the classic look I wanted, I came upon the Milanese/mesh bracelet.  I thought the look was fantastic.  I purchased the bracelet from Walt Aronow at Lonestar Watches in Texas long before the project was completed.  It was made by Staib in Germany.  Dave broke down the movement for cleaning, drilled the case for installation of the stem and crown, and assembled the watch.
At this point, I got some bad news from Dave that the watch was not keeping proper time.  I had discovered Mark Siranni online some time ago, when my trusty Hamilton 992B pocket watch had needed an overhaul.  I was very pleased with his work and thought of him immediately after hearing the news from Dave.  I called Mark and he took on Part II of the project—making the watch work properly.  The watch ended up needing some work, including a new pallet fork and a new balance assembly.  The watch is now running and keeping time reasonably well.