President Eisenhower owned a Heuer chronograph, Rolex Datejust, Vulcain Cricket, and a Vacheron Constantine.
Vulcain Cricket
Eisenhower was a fan of the Vulcain Cricket and owned one before taking office. The Cricket model was known for its rather loud builtin alarm, which, according to the story, caused a bit of an awkward political moment during one of the president's press conferencesthe alarm on his Swiss watch interrupted him during a conference meant to encourage higher tariffs for Swiss imports. After he was photographed wearing the Vulcain in 1957, the company quickly capitalized on the president's taste in timepieces and began calling the Vulcain "The Watch for Presidents." They also ran an ad campaign featuring Eisenhower with the tagline "Do as Ike does."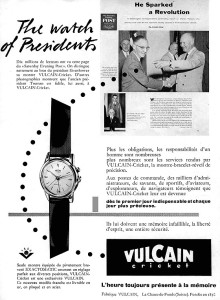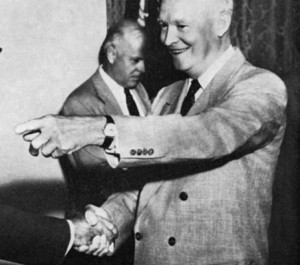 Rolex "President"
President Eisenhower is the first president known to have owned a Rolex watch. A Rolex Datejust was given to Ike by the watch company as a gift and was said to be the company's 150,000th officially certified chronometer. The watch was personalized for the president by engraving his initials (D.D.E.), five stars (his rank as a US general), and the date "12191950" on the caseback. The president's initials were also engraved again on the outer side of the buckle of its Jubilee bracelet. The watch earned a lot of attention after being prominently visible on the president's arm when he was photographed for the cover of Time Magazine.
Prior to the president's death, he gave the Rolex to his longtime personal valet, Sgt. John Moaney, who he once described as being "indispensable" to him. Moaney later left the watch to his wife, Delores Moaney. Decades later, Moaney sold the watch to Raleigh DeGree Amyx, a serious collector of American artifacts.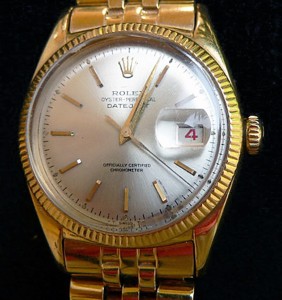 Vacheron Constantin
In the 1955 Geneva Summit, a group of Swiss civilians gave personalized Vacherson watches to the world leaders in attendance. The watches all included notes saying "These watches must have good influence on yourself, your country, and the peace in the world." The Summit was intended to allow world leaders to work toward peace, making the emotional blackmail of expensive timepieces as gifts rather fitting for the circumstances.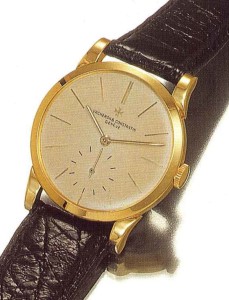 Heuer Chronograph