"GMT" stands for Greenwich Mean Time and is the "0" point on the 24 hour scale of international timezones. Greenwich is in England, and from there other timezones are plus (+) or minus (-) GMT. GMT was established so that travelers would be able to quickly  know what time it is all over the world as long as they knew what the GMT time was.
Pan American Airlines was the first commercial airlines in the world to offer international service and was considered to be the premiere international U.S. airline of from the 1930 until it shut-down in 1991.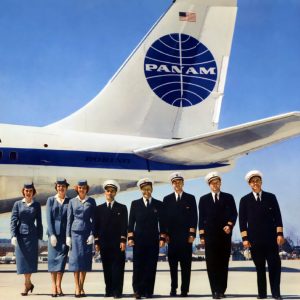 In 1954 Pan Am quickly ordered 20 of Boeing's new 707 . People were suddenly able to fly across oceans and time zones in a day
The pilots flying these long haul routes needed a way to keep track of time, both local time and the time in the place from where they departed. Pan Am approached Rolex and requested a watch built for this new breed of pilots. In 1954, the GMT-Master was born, a watch that could track two time zones simultaneously.
The GMT watch is quite simple. The GMT tracker is simply a second hour hand geared to run half as fast and an additional 24-hour time scale. In other words, the 24-hour hand circles the dial once a day instead of twice, its tip pointing to the corresponding hour, leaving no confusion as to whether it's a.m. or p.m.
 Rolex GMT "Pepsi Bezel"

The iconic red-and-blue "Pepsi" bezel that is so associated with the early Rolex GMT-Master was Rolex's first solution to the two-timing conundrum. The so-called "GMT hand" points to the 24-hour time scale on that bezel (blue for nighttime hours, red for daylight). And because the bezel turns, any hour can be set to correspond to the GMT hand, instantly tracking a second time zone, incredibly simple.  As part of their navigation and communication protocols, pilots always operate on GMT (or UTC) time, to eliminate any confusion. So those Pan Am pilots would always have their 24-hand set to GMT, no matter what their local time was.
Today there are more sophisticated movements and they can be generally divided into two types. The first type has an independently adjustable GMT hand, meaning it can be set separately from the local time indicated with the hour hand and is not linked to the date function.
The second type links the GMT hand to the minute hand while the normal hour hand is independently adjustable and is linked to the date.
Popular GMT Models