In 2005 Trump released the Donald J. Trump Signature Collection of watches. In 2006 Trump ceased production of the Donald J. Trump Signature Collection of watches. The collection featured around 20 pieces and since production only lasted around  1 year, there isn't a lot of information about this collection.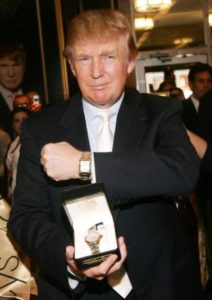 About 20 models were produced that year. It became the first and final year of the watch brand, making it an ultra rare assortment of watches to own.
Donald Trump is the first President ever to create/license a watch brand under his own name.
The Trump Signature brand was a mixture of outlandish original designs and ones "borrowed" from more popular watches.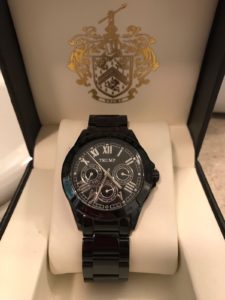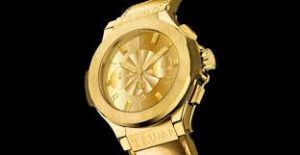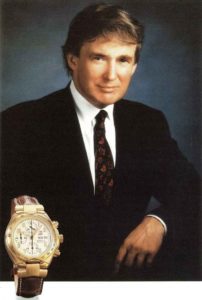 Other watches  Donald Trump has worn over the years
There appears to be five wristwatches associated with Mr. Trump: a yellow gold ultra-thin watch, a larger gold watch that is potentially a Rolex, a Senna chronograph by Universal Geneve, an Azad Power Tourbillon and the Trump Signature Collection that was briefly sold at Macy's.
Mr. Trump doesn't make it easy to identify what watch he wears as he favors an extra long shirt cuff that blocks the wrist. The few times he's seen wearing a short sleeved shirt there appears to be a thin gold watch with a blue dial. It's possible that this is a Patek Philippe Ellipse but there isn't any way to be certain however the small size and thin profile would match the watch . A photo of Mr. Trump and his then-girlfriend-now-wife Melania  from 1999 show a watch peeking under his cuff. Could this be the same watch as in other photographs?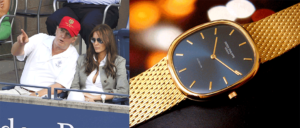 This one photo I found from 2014 shows Mr. Trump wearing what appears to be a yellow gold watch on a presidential style bracelet and you can just about make out the raised glass of a cyclops which could mean that it's a Rolex Datejust or Day Date??   I think it looks a bit thin to be a Rolex, could just as easily be a Timex!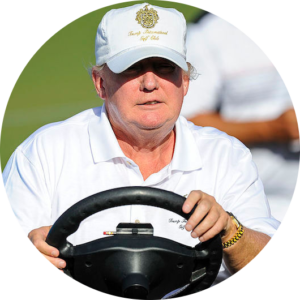 In 1999, Antiquorum ran the Famous Faces, Watch Auction for Charity with Mr. Trump donating his Senna by Universal Geneve chronograph. The Senna line launched in 1998 by Universal Geneve in collaboration with the Formula 1 driver's family to celebrate his legacy with part of the sales going towards the Ayrton Senna Foundation for Underprivileged children. Mr Trump's piece, Ref. 198.310, was an 18kt yellow chronograph with day date complication with a COSC rated movement.

In 2009, New York based brand Azad watches sponsored the Celebrity Apprentice Season Finale party and got Mr. Trump to pose for a few photographs with their Power Tourbillon. I don't think he ever owned or wore the watch as photos of the event show nearly everyone in attendance being forced to hold the box for a photograph.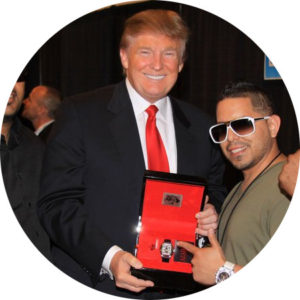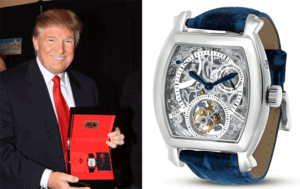 I haven't seen any proof that Mr. Trump is a watch fan. It is not unusual for Presidents to be unconcerned with wristwatches as a hobby with Presidents Carter, H.W Bush and W. Bush all wearing inexpensive watches while in and out of office. President Clinton wore a Timex Ironman during his time in the White House however, President Reagan wore a Gold Rolex.