Last week's blog post was about a very simple NATO watchband.  If you have time, you can take a quick look at the blog here: https://blog.watchdoctor.biz/2017/06/18/nato-watch-strap/
This week I thought we would talk about the latest in technology which is a smart watchband.  I started doing a bit of research on this product after seeing a few adds on the internet.  It looked like a cool way to get the latest technology of a smartwatch, while still wearing my trusty Timex.
Here are a few of the new designs that can make your  "dumb watch" a bit smarter.
Unique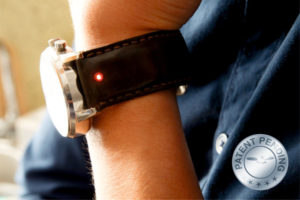 Unique looks like a traditional leather watch strap and fits any watch – but thanks to its multi-colour LED, vibration alerts and gesture recognition, it lets you receive notifications, reject phone calls, send pre-written texts, monitor your fitness, store all your security or transport passes, and be reminded instantly if you're about to leave your phone behind.
The straps are slightly thicker than traditional watch bands. They are priced at $199 right now but you can get one for $139 during the early-bird offer.
Montblanc
The luxury brand Montblanc also entered the wearable market with their e-strap. Montblanc e-strap is an interchangeable strap, with an integrated technology device that offers an activity tracker, smart notification, remote controls and find-me functions. It goes well with the Montblanc app.

Kairos
 T-BAND ND (No Display) model is designed for people who want extended battery life, basic notifications (via vibrator and multi-color LED indicator), and activity (fitness/sleep), health data monitoring without the need for fancy displays or touch sensor capabilities.  Battery life is expected to last more than 7 days with the ND model.
Features:
On board Kairos OS will be able to push notifications such as text messages, incoming calls, and also push alerts from available apps via a discreet multi-color LED indicator and/or vibrator motor. On top of having multiple sensors such as 9-axis gyroscope, accelerometer, compass and optical sensor, the ND model also gets GSR (Galvanic Skin Sensor) which detects skin temperature and sweat.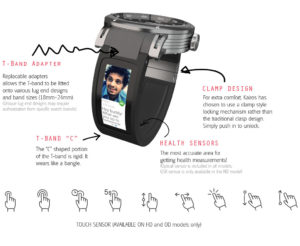 Smart Buckle
Simply replace your standard watch buckle with the Smart Buckle and enjoy smart connectivity including activity tracking, sleep patterns and more. Watch the demonstration video below to learn how easily the Smart Buckle can be attached to almost any watch.
• Activity Tracker – 3-Axis gyro, angular velocity, and motion sensors calculate steps, pace, distance, calories burned, and sleep patterns.
Monitor your daily, weekly, monthly activity, and sleep data with the iOS or Android App.
Designed with high grade stainless steel finish to match and ensure the integrity of your traditional watch.
•Starting at $39, Smart Buckle is the most affordable and feature loaded wearable activity tracker on the market.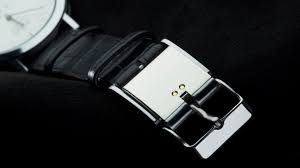 C.T. Band
CT Band is an ultra-thin, high-tech smart watch-strap designed to attach to any watch-face! Easily transform your traditional watch into a smart one without ever changing style or brand.
Discover the first CT Band product line, SimpliCT, offering 7 color options in leather and 11 color options in silicone.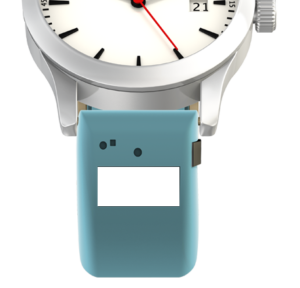 Samsung TipTalk
Samsung TipTalk is a  smart strap meant for traditional watches. TipTalk adds notifications, calling features and fitness tracking to any normal watch. The most interesting feature of TipTalk is how it receives calls by just pressing a finger on the ear – all because of the combination with a latest  UX. ECG and PPG reader. These sensors are embedded into TipTalk for measuring stress level, heartbeat, breathing rate, skin temperature and body fat. The cherry on-top is the battery life of up to 7 days.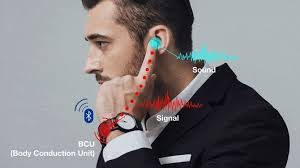 Modillian
The Modillian is a "smart strap" for watches and aims to bridge the gap between traditional timepieces and the emerging smartwatch industry.  Essentially it is a replacement buckle for watch straps that has a Bluetooth connection and vibrates in order to alert the wearer to notification such as incoming calls, missed calls, and new messages.