Apple recently unveiled its Apple Watch Series 2 along with the company's other new products. A few new features to the Apple Watch are with the case, operating system and an alternate option.
The case has been upgraded to swimproof and the new operating system is watchOS 3. For a steeper price, consumers can opt for a white ceramic case.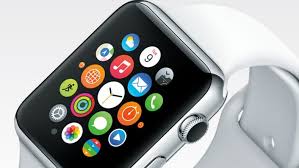 With all these new features and the support of a tech giant has Apple brass thinking it can disrupt the Swiss watch industry. However, opponents cite that the Apple Watch is barely a watch at all, but rather a wearable computer.
Don't tell that to consumers, though. In terms of revenue,  Apple is right behind Rolex, and ahead of brands like Fossil, Omega, Seiko, Patek Philippe, and Casio, in worldwide watch sales. However, even though a luxury brand report rated the Apple Watch the most talked about luxury watch, Rolex was still rated highest on the "passion index," which measured how favorable that talk was.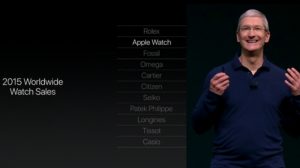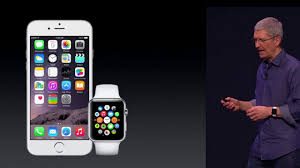 Most estimates agree that Apple has sold 10 or 12 million smartwatches which looks like a flop next to quarterly iPhone sales. Not so much next to Swiss watches.
Few would be surprised to see that the largest tech company in the world would do reasonably well with a release in a new product category. But Apple selling a watch is much like McDonald's deciding it's going to start selling sushi.
Sure, McDonald's would likely become the single largest proprietor of sushi in terms of revenue, but it won't appeal to those who know what real sushi is, nor does it indicate anything with regard to the quality of the product.
Some say it is less about Apple being able to sell a great watch to traditional watch consumers, and more about Apple's power to produce and sell volume when it comes to their products.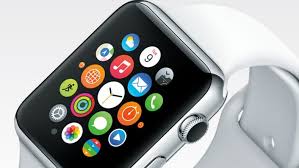 So, is the Apple Watch a really to be considered watch? While there is certainly a degree of functionality offered by the Apple Watch not available in a classic wrist watch, and to that there is some merit worth noting, the watch making world's biggest problem is not the Apple Watch.
So how does Rolex keep a giant like Apple — which sells such a hyped-up product — at bay?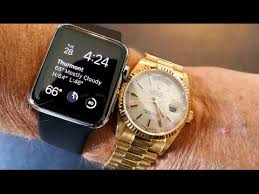 "Ultimately, [Rolex is] the king of the watch world. In terms of mass produced luxury high-end watches, the only one that even comes close would be Omega," Ben Clymer, editor of Hodinkee, said. "And they're really not that close at the end of the day.
To cement its status, Rolex never stopped inventing. They came up with the first waterproof case, the first self-winding watch, the first watch with a date, and (arguably) one of the first driving chronographs, which is used to measure lap times.
On top of these innovations in watchmaking in the first half of the 1900s, Rolex developed a reputation being reliable.
Rolex now touts this history in its advertising, attempting to make customers feel as though they're buying into a legacy instead of just the hottest new thing.
The future, however, remains to be seen.